Commercial Christmas Trees
Make a statement this Christmas with one of our unique giant artificial Christmas trees. Perfect for business foyers, company events and large-scale Christmas displays, our super-realistic corporate Xmas Trees are sure to impress.
FAQs
Our giant Christmas Trees can be bought "off the peg" or we can have them bespoke made for you, depending on your business' requirements. Produced in the UK using high quality UK steel, you can be sure you're receiving a good quality product when you buy a specialist Xmas tree from Christmas Tree World.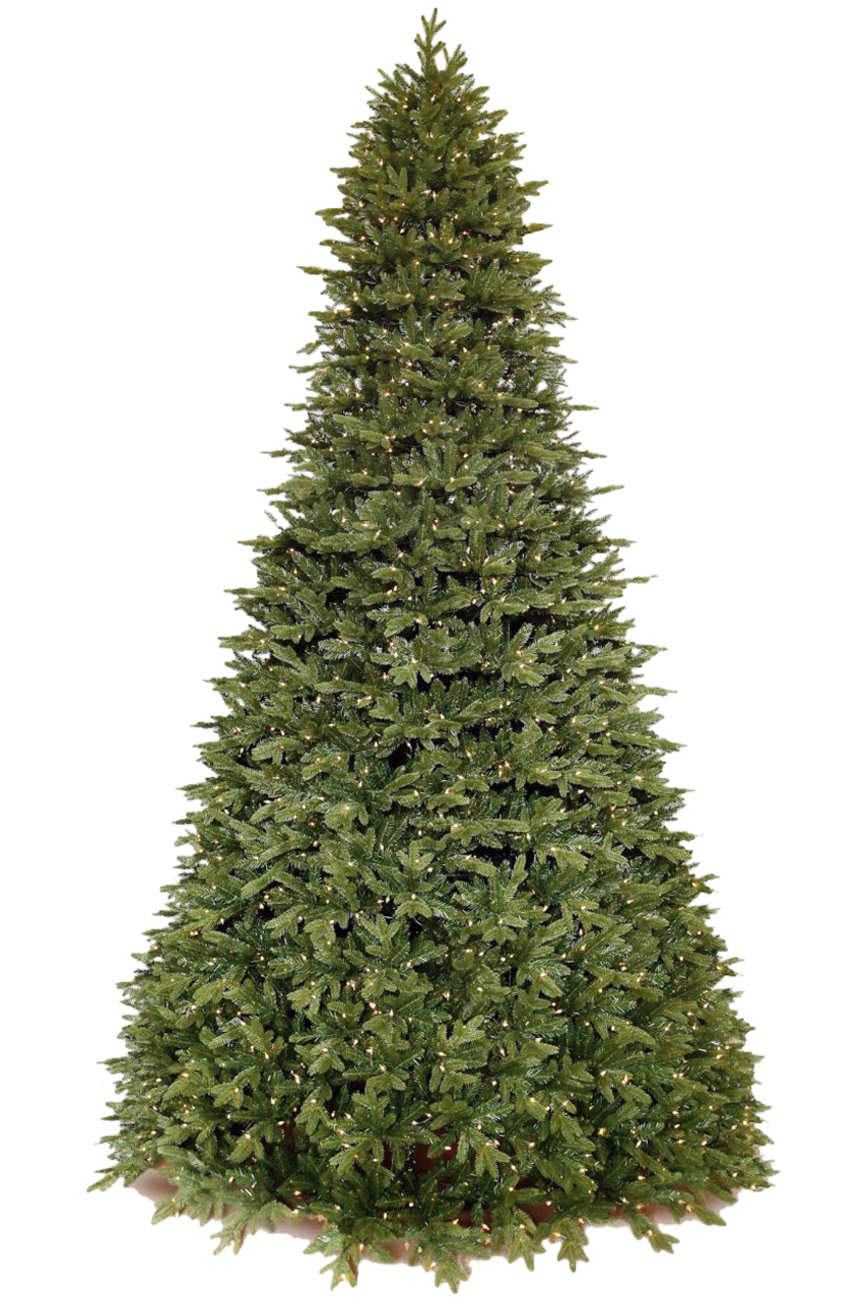 How to choose the best extra-large artificial Xmas tree for your business
Our giant artificial trees can be ordered up to a whopping 40ft in height and, with pre-lit options to choose from, you won't even need to worry about your commercial tree looking bare when festive season comes around.
Looking for corporate or retail Christmas tree in a smaller size? We've got them, too! Browse our range of extra-large Christmas trees for small commercial properties, such as offices, pubs and shops.
Outdoor Christmas trees for your business
If you're looking for an outdoor commercial Christmas Tree, quality is sure to be the first priority on your list. Luckily, Christmas Tree World trees are built for purpose, with resilient branch fibres and a sturdy base (which can be weighed down with sandbags or bolted to the ground).
To make your event truly festive, why don't you combine the best of our outdoor Christmas tree collection? Bring together your giant trees, with a bespoke outdoor Woodland Pine and Blossom Trees to wow the crowds with your Yuletide spirit.
Where can you use our bespoke artifcial Christmas trees?
Take a look at some of our most popular options, below:
Town and village centre displays
Shopping Centres and Malls
Christmas Fayres, Markets and Events
Sports venues
Churches & Cathedrals
Hotels
Business functions
Commercial Christmas Tree Specifications
Sizes available: 13ft - 40ft
Commercial quality giant frame trees
Designed for indoor or outdoor use
Highly realistic PE/PVC Branch tips
Option to design your own commercial tree
Steel frames designed and manufactured in the UK
Available un-lit and pre-lit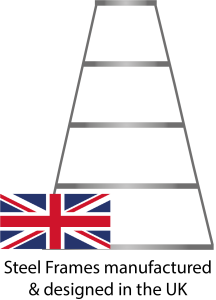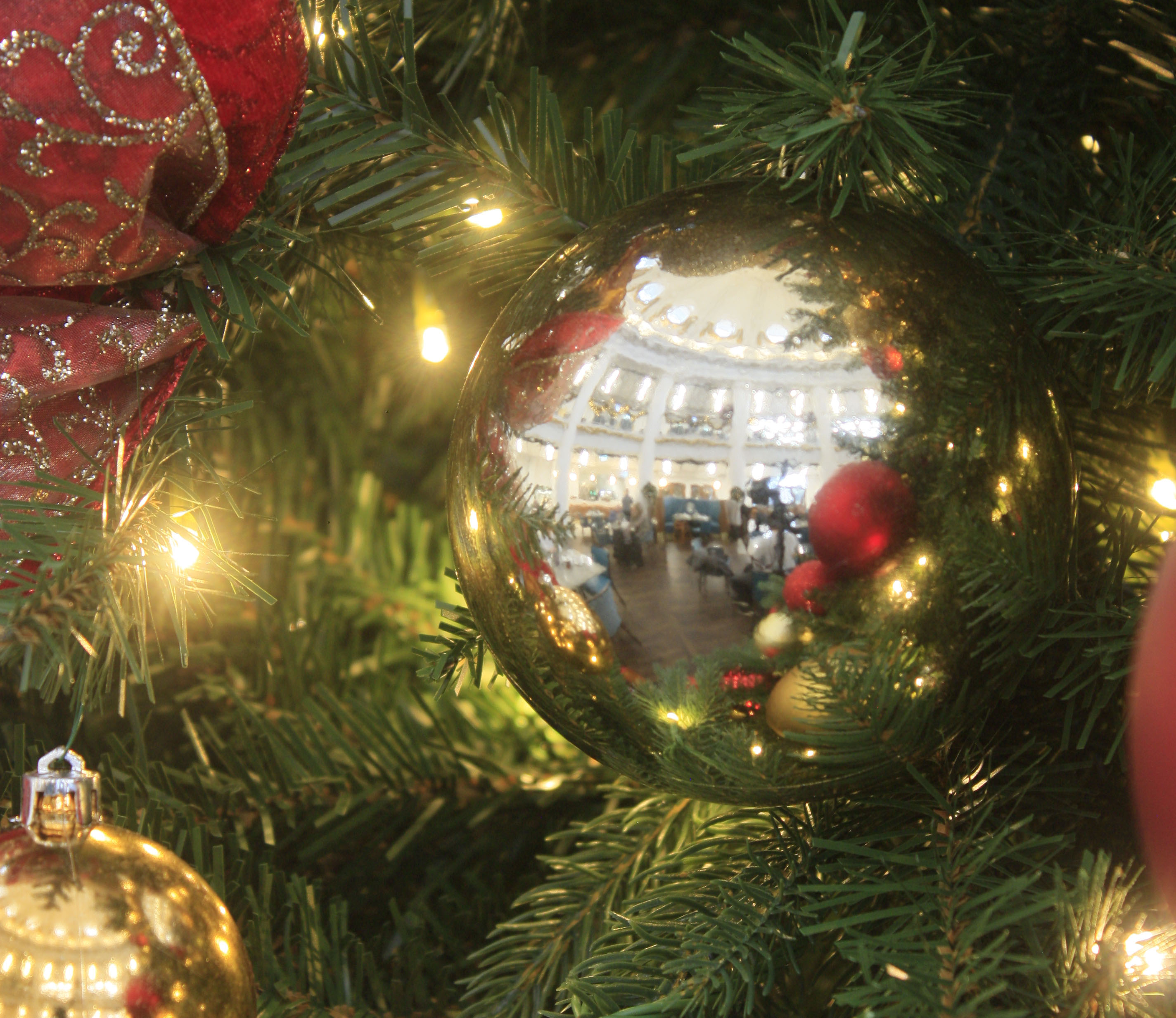 Corporate & Retail Christmas Tree Decorations
What's a giant Christmas Tree without out-of-this-world decorations?! In our range, you'll find traditional festive items in super-sized forms. Our baubles, for instance, range from a regular 6cm to a huge 30cm (in diameter) - ideal for when it's time to impress your guests.
Can't decide how to decorate your commercial Christmas Tree? Take a look at our full range of Christmas Decorations and Xmas lights for inspiration or call up for our expert advice.
Note: We provide you with a VAT invoice & can also offer proforma invoicing, should you require this for your procurement department. Call off orders can also be arranged, should you wish to order large numbers of trees but have them delivered in smaller quantities.
Pricing available on request.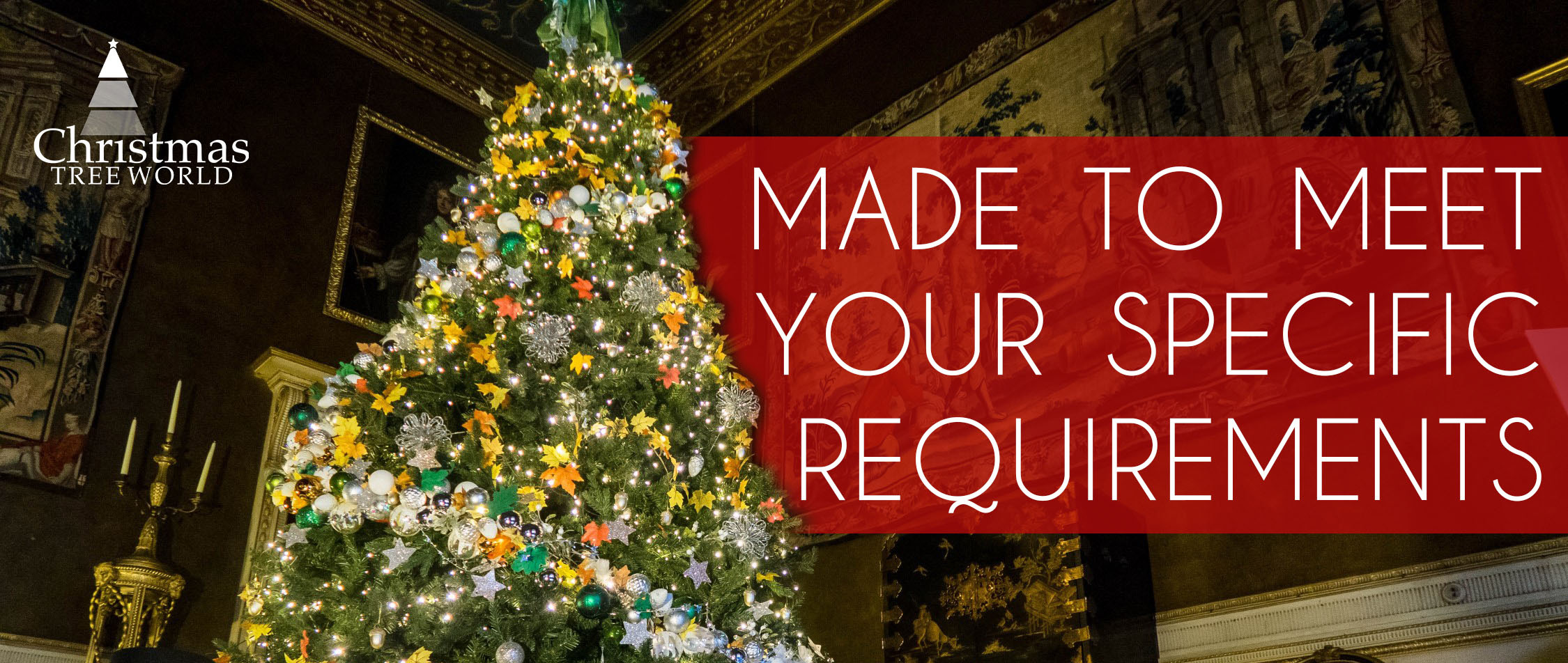 Spanish City - Whitley Bay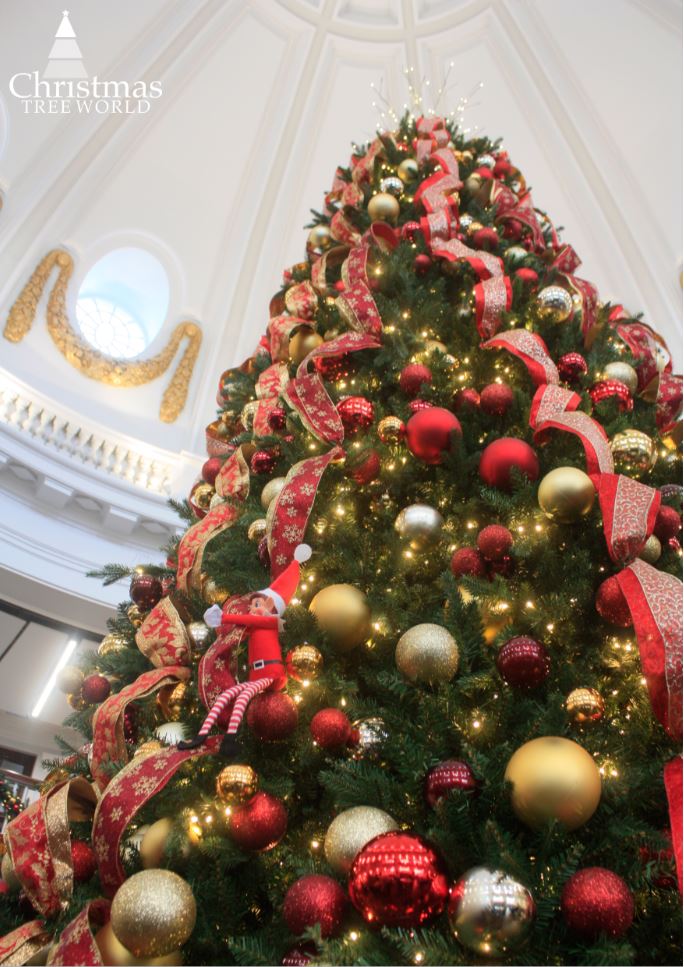 Having discussed plans & intentions with Spanish City at length, a sale was agreed for a 6m (20ft) Giant Woodland Christmas Tree. Part of this, involved us putting them in touch with one of our Installation Partners.
Laura, who heads up Team Festive, visited the site, and agreed on decorations and a date for the install. The tree was constructed & decorated onsite, by Team Festive using our 12cm baubles, as well as some additional decorations supplied by Laura.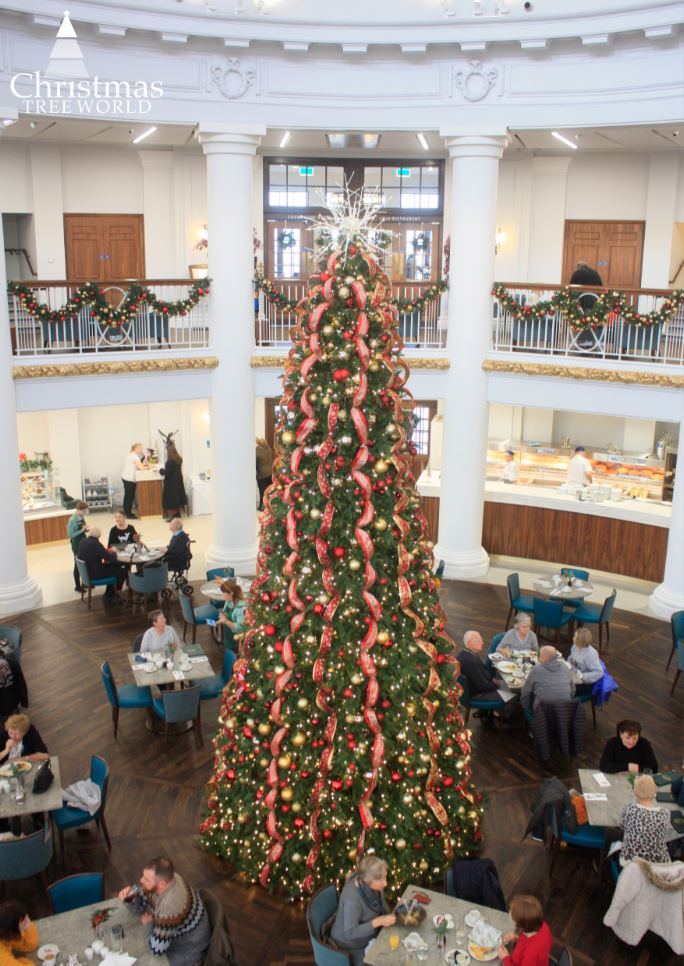 The tree attracted plenty of press attention & crowds gathered, for the switch on event, as this iconic building was lit up & decorated for the first time in its history.
Throughout the Christmas period, the restaurant attracted visitors in large numbers, many of whom were having their picture taken next to this impressive tree.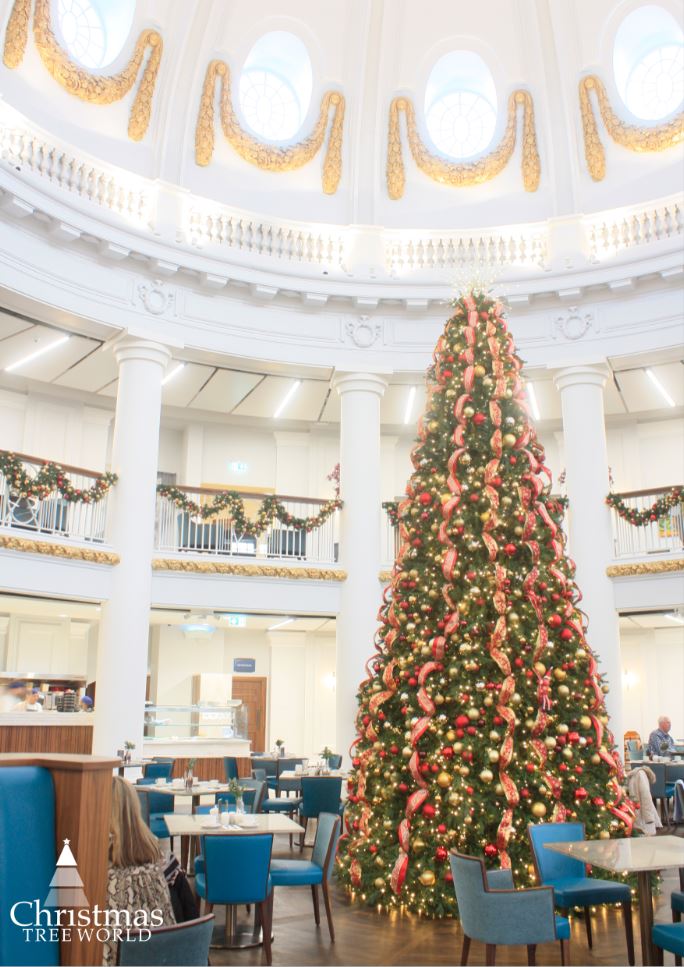 The intention for 2019 is to go even bigger, however, this does not mean Spanish City having to buy a new tree…… With our frame system, they can simply order an additional section of frame & branches, which can be bolted onto the bottom.
It looks as though visiting the impressive dome is going to become an annual, festive, attraction and maybe even a new tradition, for many North East families.
FAQs

Our Commercial Christmas Tree is built around a framework, rather than the traditional centre pole, making the structure far sturdier and more suitable for outdoor use

Yes. Only the transformers need to be kept dry. This can be done with the use of an electrical dry box.

Whilst the framework can be stood on, we would always recommend using a ladder or scissor lift. Your company's health and safety policy should cover any working at height regulations.

Of course! Our trees have been used in both modern buildings and also buildings of historic importance.

There is no requirement for the floor to be drilled, unless you would prefer to do this. Our trees have been designed, so that the framework can be weighted from the inside, using anything heavy, such as sandbags etc. These are then fully hidden by the foliage.

The foliage used on these trees is a higher grade PVC & PE than that used on regular artificial Christmas Trees. This is UV protected & will also withstand wind and rain.

Yes! Additional framework and foliage can be added to your tree in future years.

The assembly will very much depend on the height of the tree and the number of people involved in the construction. A 4-6 metre tree is quite achievable in about 6 hours with 2-3 people.

Should your lights get damaged, (wire cut) only the branch on where they are located, will go out. The remainder will stay lit. Pre-lit branch sections can be purchased separately, should this occur.
片未满十八岁禁入_视频在线观看